Medical Research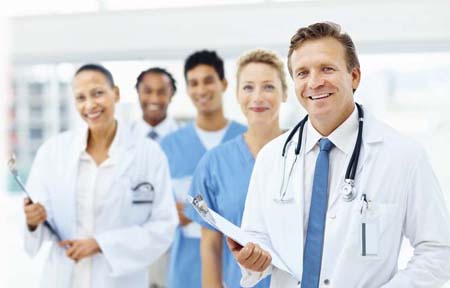 The clinical and provider community are not ready to accurately diagnosis and treat comorbidity. Despite medical knowledge and the majority of patients who suffer from two or more co-occurring conditions, our coding, treatment guideline, and payment system keeps doctors and patients in a "cattle shoot" that drives every condition as a single event. Care coordination, record interoperability, and analytics to predict risk does not solve the problem this creates because front-line practitioners are boxed in to a single condition without knowledge of intercepting disease pathways.  A more informed box, but a box none-the-less.
Nothing falls through the cracks of healthcare more than brain comorbidity in both chronic and life-threatening illness.  Specialist who treat chronic and life threatening illness are most often the first and only line of diagnosis and care for people with mental or cognitive disorders because they are the doctors that patients see the most. Psychiatrists are not prepared to measure or treat the clinical conditions that are biologically linked to depression or anxiety. This bi-directional response can slow recovery, increase severity, and limit the value or quality of care. Neurologists couldn't manage the volume of patients with "Chemo brain", Traumatic Brain Injury medication management, dementia caused by other health or medication issues, and the collection of clinical data needed to inform medicine on comorbid care.
If brain health is only for the Neurologist or Psychiatrist to discern and treat, why does a Rheumatologist measure blood pressure when a patient checks in? Would not the same expertise to assess and treat hypertension be needed by a Cardiologist? Including brain health across all medical specialties ensures more than wellness, baseline to severity monitoring, or the recovery from a co-occurring disease. It insures smart people, capable leaders, innovators, capable parents, less violence and unnecessary death, and strong generations to come.
Gravitas manages the data analysis for the study of comorbid brain disorders in diseases that are most effected by them and the development of care models that support clinical practice. We work collaboratively with multi-disciplined institutions and experts to compile a 360 degree view of the evidence that is required to change reimbursement policy and support technology development for evidence based solutions that are simple for providers to use. This comprehensive data collection and analysis includes: the development of disease profiles using aggregated high quality research studies weighted to identify cohort populations across a larger, national populace; the clinical diagnosis, condition assessment, and care plans developed and tested by multi-disciplined research teams led by disease specialists; the analysis of claims and co-pay data to demonstrate the fiscal impact of not treating versus treating; the patient preferred types of care support using national consumer health research studies in order to better match treatments to patient adoption.
Our Data Commons aggregates scientific and clinical studies on each of the chronic or life threatening conditions; algorithms are used to properly weight them to replicate a large scale study; the results are studied against health records using survey algorithms; patient populations are studied by similar characteristic cohorts. This supports further research using Gravitas funded research teams comprised of experts in the condition, neuroscience, neurology and/or psychiatry, disease pathophysiology, biostatistics, and informatics to develop hypothesis and early care models that we test across health settings. Tests are done using algorithms we provide health systems, EHR vendors, and clinical practices in order to avoid security issues around acquiring record and test data. This clinical model design process is then combined with our Health Consumer Research that tells us what patients in specific population cohorts will actually follow-through with and what support systems they need.
Gravitas collaboration helps assure that evidence -based best clinical practices are vetted by the very doctors, health systems,  insurers, and Health IT developers that are charged with implementing them. Reimbursement policy, care coordination, disease management, and technology development will then be focused on reducing the incidence and effect of illness using evidence based metrics, which provides sustainable cost reduction and wellness. While arduous and aggressive, Gravitas serves the medical research that advances clinical practice that no single organization is fiscally prepared to do alone. Organized stakeholder organizations in well-managed Research Partner coalitions will gain tremendous authority by shifting from a large, reactive, and fractured follower of change into a proactive community of practitioners, providers, and patients that has the power to lead change. 
Comprehensive Intelligence
The comprehensiveness of our medical research model provides a clear, clinically relevant body of knowledge that follows the disease pathway and patient across the entire continuum of care in order to reduce fragmented solutions that are not compatible. The resulting value and quality of health services combines scientific, clinical, cost, outcomes, and patient preference study that gives doctors and patients the knowledge and authority to manage two conditions simultaneously.  Coordination within practices or across providers will be enhanced by shared knowledge that protects the investments made into care, behavior change, testing or assessment. hospitalization, and medication that are lost through gaps, variations, or unrecognized changes in severity. The development or purchase of technology systems will gain measureable metrics based on illness reduction and user adoption. All of these critical attributes improve the value and quality of care as well as the patients decisions. By bringing in the voice of the health consumer, providers will be better equipped to engage people with something meaningful to measure in the type of technology they prefer to measure it in.
Healing Comorbidity
Comorbidity, especially with brain disorders, has been widely studied in chronic and life threatening illnesses, which provides the scientific and clinical basis for resolving them. Doctors, providers, and payers need the evidence that clinical and technological innovation can be built from. Patients want to limit their out-of-pocket costs expended by a fractured system of care for unrecognized and poorly treated brain problems that are a part of the condition spectrum they are currently receiving care for. Severity of both the brain disorder and the physical condition are impacted, new scientific drug discovery and combination therapy is thwarted, and health IT solutions validated by medical evidence are lagging without viable comorbidity solutions brought forward by all key stakeholders today.
Expanding the Human Brain
The emerging technology that is used today to manage resources and time has the potential to expand the capacity, capability, and comprehension of medical professionals in clinical settings to provide more services at a lower cost. It is more evident today that using the same basic practices of education and fear of consequences are not made more successful simply by wrapping them in technology. Chronic, life threatening, and brain illnesses need more "hand holding" that can be better accomplished by disease management technologies that can identify, assess, follow-up, and provide patient activities using nurses and medical technicians, who can also manage and track referrals.  Whether providers develop solutions internally or purchase them, our research provides the metrics that can be used to determine investment value and outcomes return, which is little known today. This is especially critical to brain illness comorbidity that has been steeped in medical and social stigma rather than the brains physiologic response to illness in the body that it is.
Advancing Innovation
Gravitas support for the massive amount of scientific, medical and health consumer research that uncovers comorbidity best practices along the continuum, from diagnosis to individual self-management, supports innovation across key stakeholder groups. Basing clinical, technology, and patient engagement services on measureable metrics and evidence benefits the organizations that leverage this formidable knowledge into solutions. Instead of managing or improving the quality of treatments, our Research Partner organizations will be more prepared to reduce the incidence, effects, and severity of illness. More so, they can prove it. 
An Example of a Lupus Research Team
Click to Enlarge